Atomic Robo and Other Strangeness
is the title of the fourth
Atomic Robo
mini-series. The four issue series began in March 2010.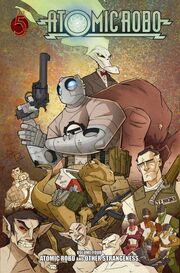 Trivia
The volume was erroneously titled Atomic Robo and the Revenge of the Vampire Dimension when it was first released.
Ad blocker interference detected!
Wikia is a free-to-use site that makes money from advertising. We have a modified experience for viewers using ad blockers

Wikia is not accessible if you've made further modifications. Remove the custom ad blocker rule(s) and the page will load as expected.